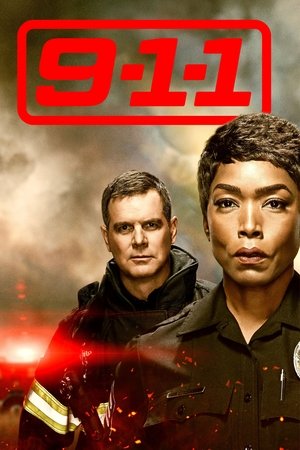 Explore the high-pressure experiences of police officers, paramedics and firefighters who are thrust into the most frightening, shocking and heart-stopping situations. These emergency responders must try to balance saving those who are at their most vulnerable with solving the problems in their own lives.
Stars

Peter Krause,Angela Bassett,Oliver Stark,Kenneth Choi,Aisha Hinds,Jennifer Love Hewitt,Rockmond Dunbar,Ryan Guzman

Producer

Release

2018

Country

United States

Quality

HD-TV

Category
Show more
Pilot
It takes a team of people to help answer the famous question, "911, what's your emergency?" Detective Athena Grant works as a member of the police force, handling cases that require her sharp mind and expertise, while also trying to juggle her own family drama. Bobby Nash and his team of firefighters help execute the daring rescues that often come along with these life-threatening situations. Meanwhile, Abby Clark spends her days taking and fielding emergency calls at the 911 call center, but constantly desires to know what happens after she sends help.
Let Go
A night at an amusement park takes a deadly turn when a roller coaster malfunction leaves lives hanging in the balance. Abby reaches out to Buck; Athena and Hen respond to an unusual home invasion.
Next of Kin
Bobby and his team respond to an emergency at a children's birthday party that leaves lives hanging in the balance. The crew jumps into action after one of their own is involved in a devastating accident. Athena tries to cope with a tragedy that hits way too close to home and Abby is confronted with a life-changing decision for her mother and makes a connection with Buck.
Worst Day Ever
In the aftermath of a deadly plane crash, Bobby and team race to help the survivors, while Athena deals with panic and chaos at the airport. Bobby confronts his past demons; Athena is out for revenge against a group of teen bullies; and Abby delivers an important message from a 9-1-1 caller.
Point of Origin
The crew races to an emergency when disaster strikes at an Indian wedding. Abby enlists the help of Buck to try and find her mother and, for the first time, meets Athena face-to-face. Meanwhile, Bobby has a difficult time confronting his past and Hen struggles to make the right decision.
Heartbreaker
On Valentine's Day, a surprise marriage proposal goes awry with dangerous consequences. Athena attempts to help a desperate woman and unintentionally joins the Lonely Hearts Club. Bobby and Chimney pull holiday duty and learn about the "Casanova Fracture" and Abby and Buck go on their first official date.
Full Moon (Creepy AF)
A full moon keeps the crew busy with some of the craziest calls yet, as Athena investigates a potential home invasion and "faces off" against a rabid criminal. Meanwhile, Abby helps investigate the murder of a caller, Bobby and Buck have their hands full at a yoga studio for pregnant women and Hen's past may become her future.
Karma's A Bitch
What goes around comes around for an unremorseful widower, an arrogant fitness club owner and an unsuspecting thief. Meanwhile, Bobby gets a surprising phone call from his doctor after donating at Chimney's blood drive, and Athena confronts Michael after having a heart-to-heart with their kids.
Trapped
The first responders race to help a homeless man crushed in a garbage truck, a mother and son in a crashed elevator and extreme hoarders entombed in their house. Meanwhile, Athena jumps into to the dating pool, as Buck and Abby's relationship is tested by her ailing mother.
A Whole New You
The first responders take calls to help an unusual domestic disturbance, a "death" at a psychic's and a horrific motorcycle crash. Meanwhile, Bobby dips his toe into the dating pool, Abby takes a walk down memory lane, Buck is confronted by his past actions and Athena tries to start her new life.